Ant Treatments and Solutions
Mosquito & Pest Xperts – Your choice for expert Ant and Fire Ant and Extermination.
Ants are social insects related to wasps and bees. Much like wasps and bees, Ants form colonies that can range in size from a hundreds to highly organized colonies that can consist of thousands to even millions!
By nature, Ants have immense ability to explore their environment and utilize features (in the wild and in your home) to create or expand their colonies. This is where the Ant community usually comes into conflict with humans – Ants can cause severe damage to your home and property.
Ants will find their way to the most reliable food source. If you notice an Ants in your home, its time to call a trained Pest Control company. Many people don't realize this, but Ants communicate by pheromones and they use those pheromones to follow trails Ants communicate with each other using pheromones, and they use these pheromones to create trails for other ants to follow.   For example, in species that forage in groups, an ant that finds food marks a trail on it's way back to the colony.  This trail can then be followed by other ants, these ants then reinforce the trail when they head back with food to the colony.
Fire Ants:
Fire Ants were introduced to North America by accident in 1930 and since then they have slowly inhabited the southeastern United States. Unlike other species of Ants, the red Fire Ant bites only to latch on to an enemy, then (much like its relative the wasp or bee) it stings its prey with venom.
Treatments of Indoor and Outdoor Ant Infestations:
Mosquito & Pest Xperts is a licensed Turf and Ornamental care company.  This is usually held by landscape, sod and turf companies.  This is the license that enables fire ant treatments for your yard.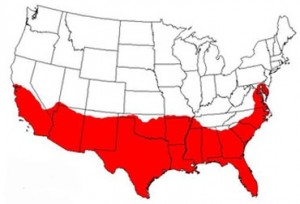 See more detailed information at our Insect Encyclopedia here »
Mosquito & Pest Xperts will work with you to remedy the ant infestation, but also help you determine why you had the infestation in the first place. Utilizing preventative steps to keep your home ant free.
Keep your home and business pest free.
100% Satisfaction Guaranteed!
Call your Mosquito & Pest Control Xperts today.

800-596-0116


Estimates are always free!
---
Need your home decorated for this Christmas and Holiday Season? Check out our sister company Rooftop Elves!
---
Mosquito Control & Pest Control Leader in the Carolinas
Serving Charlotte, Winston Salem, Greensboro, Raleigh, Durham, Cary, Chapel Hill, Southern Pines, Pinehurst, Rocky Mount, Wilson, New Bern, Atlantic Beach, Topsail Beach, Wilmington NC, Fayetteville, Myrtle Beach, Pawley's Island, Georgetown, Charleston, and Hilton Head. And surrounding areas...
"We Get Rid of Pests, - Fast!"™