Cooling Misting Systems
Along with providing premier Mosquito Control and Pest Control solutions, Mosquito & Pest Xperts offers Automated Cooling Misting Systems to keep your outdoor entertainment areas cool and calm during the hot North Carolina and South Carolina summers!
How a Cooling Misting System Works For Your Home: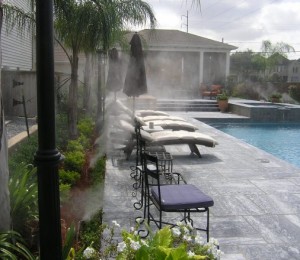 With hot summer days now quickly approaching, an essential outdoor accessory that will help you stay cool is an Outdoor Cooling Misting System.
Picture this…you have invested in and created an Outdoor Dining area or Pool environment. By utilizing this space, you have expanded and extended the space where you can entertain.
There is a lot of activity and people are hot and are sweating. As the host, you want to keep your guests as comfortable as possible. Keeping your guests cool is one of many comforts you may want to provide to make the entertaining experience more memorable.
How a Cooling Misting System Works For Your Restaurant: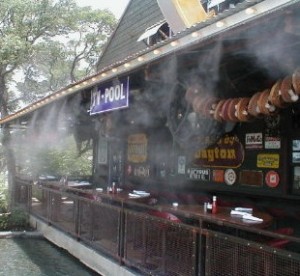 North and South Carolina bars and restaurants are known for their fine outdoor eating and patio spaces. Keep your guests cool and happy with a Cooling Misting System! Nothing can add comfort to your guests like a Cooling Misting System. A gentle cooling breeze will keep your patio and outdoor area completely cool.
Activated by a switch at your convenience, simply turn your Cooling Misting System on and your guests or patrons will be climate controlled and happy.
How a Cooling Misting System Works For Athletics & Special Events:
North Carolina and South Carolina summer sports often utilize our Cooling Misting Systems on the sidelines to keep athletes cool during high temperature games.
Our Cooling Misting Systems are perfect for any outdoor athletic event! Keep your Team or Teams cool on the sidelines!
You can rent a Cooling Misting System for One-Time Events
Keep your home and business pest free.
100% Satisfaction Guaranteed!
Call your Mosquito & Pest Control Xperts today.

800-596-0116


Estimates are always free!
---
Need your home decorated for this Christmas and Holiday Season? Check out our sister company Rooftop Elves!
---
Mosquito Control & Pest Control Leader in the Carolinas
Serving Charlotte, Winston Salem, Greensboro, Raleigh, Durham, Cary, Chapel Hill, Southern Pines, Pinehurst, Rocky Mount, Wilson, New Bern, Atlantic Beach, Topsail Beach, Wilmington NC, Fayetteville, Myrtle Beach, Pawley's Island, Georgetown, Charleston, and Hilton Head. And surrounding areas...
"We Get Rid of Pests, - Fast!"™